IBM Digital Transformation Summit 2020
22 September 2020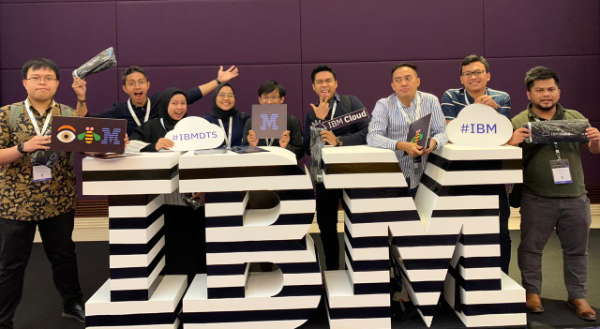 Some Gifts from IBM Digital Transformation 2020:
Digital Transformation need a leader, Digital Transformation should be led by CIO, from establishing an enterprise-wide understanding of what it means, to successfully supporting the corporate digital-transformation strategy.
Business are rapidly and force us to evolve fast. To following modernization era, almost all company transforming their business to digitalization. But there are several obstacles such as:
a. Unique workload needs – Compliance, Security, location – requires more choice
b. Multiple clouds & vendors – Hard to connect / manage across clouds and IT
c. Lack of necessary skills – how do we prioritize and deliver modernization
Therefore, IBM has transforming methodology called IBM Cloud Innovate methodology for Modernization.
Digital Transformation is a Journey that Require People, Process, and Data to make it come true.
For information some of movement which IBM do to run Digital Transformation such as:
Digital Automation Personalization
AI, Cloud, IOT, Blockchain, Security
Training + Experimentation
20% of enterprise Workload to cloud
And in depth move like:
Embedding digital and AI at

Scale

across the business everywhere
A multi-Cloud world whereby you are seamlessly switching between private, public and hybrid environment
All of this is underpinned by trust – both in technologies and in their impact on the world
The Point of View from IBM to run Digital Transformation:
Data

fuels digital transformation

AI

unlocks the value of predictive data

Hybrid Cloud

is the Data Platform
There 7 steps which IBM CEO challenge to Team – Initial Analysis and Priorities, it may help us in the way we move to digital transformation:
Deliver New Application using Current generation Technologies
Modernize existing application & Seamlessly integrate old and new application
Digitize content, optimize workflows and empower with Intelligence automation
Bring All the Data Together and Derive insight to improve customer experience and business efficiency using AI
Upgrade the Security Posture for the new world of hybrid multi cloud
Manage and Govern all the data and apps of the business in an integrated manner
Modernize the infrastructure to support hybrid cloud & workload such as AI
Testimony from one of the biggest Customer of IBM is BEA CUKAI DEPARMENT
Bea Cukai department has transformed their traditional business flow into digital business flow. Their Journey for Digital transformation took 20 Years. They used CEISA to support business requirement such as Border Monitoring (Forbidden Item, Suspected Person, Illegal Transaction) remarks, Immigration monitoring, Money transaction flow, and etc. To support Bea Cukai Department job, currently CEISA have a lot of integration with other systems such as Bank Indonesia, E-Commerce, Kepolisian Indonesia via API.
Digital transformation in Bea Cukai not only used in Core System but also non-core system such as Human Resources Management, Work Tools, and Etc. Bea Cukai employee doesn't need to absent in office, they only take a self-photo to absent out of Office. This approach works extremely well.
New IT Environment will be happened on Digital Transformation:
DevOps: DevOps is a set of Practice that combines Software Developer(Dev) and Information-Technology Operation(Ops) which aims to shortcut the systems development life cycle and provide continuous delivery with high software quality.
DataOps: DataOps is an Automated Process oriented methodology used by Analytic and Data team, to improve the Quality and Reduce the cycle time of data analytics.
MLOps: MLOps (a compound of "Machine Learning" and "Operations") is a practice for collaboration and communication between data scientists and operations professionals to help manage production ML (or Deep Learning) life Cycle.
And last but not least…
"Digital Transformation is a Journey, Digital Transformation is never end and Digital Transformation is not enough."
Be Prepare for facing Digital Transformation!